GP-121 Acetic Aquarium Silicone Sealant
Nowadays, more and more people like fish culture, but not cats or dogs. So do I. Why they will do so? As for Chinese,we must be very familiar with one idiom, which is "nian nian you yu",that means we will gain more and more than every year, and the homonymic of "Yu" is "fish", and fish has the meaning of making money. So many people would choose to fish farming. But as for me, I would like to sum up for 2 main factors.
First of all, fish farming can calm people's minds, allowing the owner to concentrate their minds through fish farming, and reduce restlessness. The movement of fish farming is a special and unique movement of nourishing the mind.
Secondly, fish farming is the process of learning to appreciate, discover and create beauty. For example, the landscaping of fish tanks and the matching of fish mixed breeding, etc., in fact, we are creating a dream world for the fish, and also finding a spiritual space for ourselves to relax and decompress.
According to this topic, today what I want to share with all of those fish-lovers that is our high performance acetic aquarium silicone sealant-GP-121. It is one component, acid cured, and fast cured and with excellent performance. And its appearance is like a smooth paste without any bubbles and no impurity. And this aquarium sealant mainly apply in the sealing and bonding of tiny fish tank, small aquarium and big panels of glass,aluminum bathroom etc, and ± 25% displacement ability.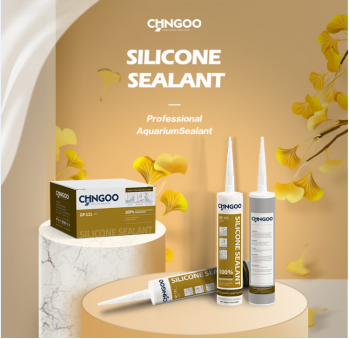 Maybe you are curious why I want to recommend this product to all of you? Keep reading the following pages, then you will find the reason.
GP-121 acetic aquarium silicone sealant has four main features which makes us won lots of good reputation from our clients from Africa,Mid-East,South America,Europe, Oceania and Asian Area and over other 50 countries.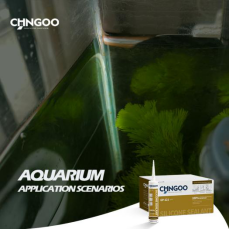 The main features are shown as below:
1. Good and persistent ability. It has good adhesion and long-lasting flexibility; Superior structural ability,easily bear the water pressure without falling off or breaking;
2. Fast cure speed, tack-free time is only for 5-10minutes, suitable for catching up on the schedule of projects;
3. German-imported raw materials, good quality and reliable, and environmentally-protected that would not harmful to fish and human beings;
4. Superior anti-aging and weather resistance and water-proof ability, and can meet the needs of long using life, so its warranty time is for 15-20years.
Except some feature of this acetic silicone sealant GP-121, we should pay more attention to some usage limitations before using and after using. Before using, the surface of basic material must be clean, dry, free of dust, dirt, oil or other contaminants,and not suggested to apply in the wet weather. And after using, we should try with the water in the fish tank before put our fishes into it, and then pour out the water, after 2-3days, then put some water into it again.That would good to build up a healthy and comfortable living environment to our fishes.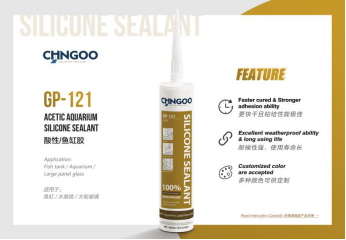 CONTACT US


Foshan Chngoo Co., Ltd.
We are always providing our customers with reliable products and considerate services.
If you would like to keep touch with us directly, please go to contact us