CHG-701 CHNGOO silicone sealant
CHG-701 Nail Free Glue
With the rapid development of global economic integration,all walks of life are keeping up with the development of the times,the chemical industry is developing particularly rapidly,infiltrate every aspect of our daily life.Especially silicone sealant has been used in many places such as furniture decoration,exhibitions,cabinets, etc.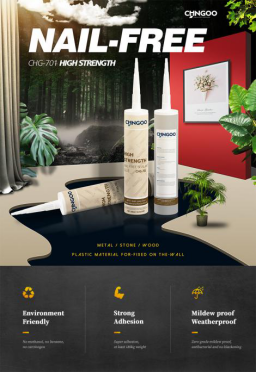 What I want to share today is our CHNGOO new product,CHG-701 Nail Free Glue,literally know that nail-free glue is glue that can stick firmly without nails.In the traditional industry,if you want to stick something on the wall,you must first use a nail to fix it on the wall,and then hang the thing.This is not only unsightly, but also severely damages the wall, leaving many small holes after nailing,and the nails are easy to loosen,which poses a certain safety hazard.Therefore,this method of using which has caused damage to the wall and has hidden safety hazards has been gradually eliminated.Instead,use nail-free glue.In order to cater to the trend of the market,we have developed a nail-free glue with new functions and new service characteristics.
This CHG-701 nail-free glue is a neutral glue,we use environmentally friendly raw materials, the main ingredient is epoxy resin, which will not emit harmful gases, and will not cause harm to the human body.At the same time, the operation is extremely simple. You only need to hit the glue on the wall and press it, and you can easily bear the weight of 180KG.Most importantly,the nail free glue no more nails,protect your walls & doors & furniture.Because of CHG-701Nail free glue's excellent performance,it well received by consumers and users.Our CHNGOO always pay attention to quality requirements,so we also satisfy many customers who have used it. This is also one of our purposes.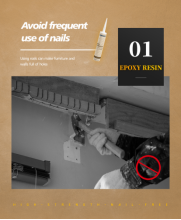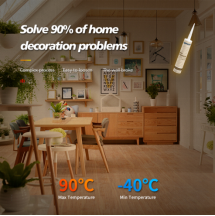 Our CHNGOO newly designed new product CHG-701 Nail free glue can be used in many ways,such as:
1. Furniture manufacturing industry: bonding mercury lenses, aluminum edge banding, handles, crystal plates, marble, plate bonding, etc.
2. Decoration industry: bonding and fixing various wood lines, door cover lines, plaster lines, floor tiles, various decorative pendants and various wallboard projects, etc.
3. Exhibition and display industry: bonding and fixing various calligraphy and painting, signs, acrylic, display cabinet production and so on.
4. Cabinet door panel industry: bonding fine steel plates, etc.
There are many products with uneven quality on the market, and some unscrupulous merchants will deceive consumers by deceiving consumers as shoddy products.And we at CHNGOO pay the most attention to the quality of our products, so we have 30+ years manufacture experience,and we have a lot of business with many country all over the world.When we produce, we strictly control every detail, adopt German imported equipment, realize automatic mechanical production throughout the process, and also use the best raw materials to ensure the quality of the products.If you want to test our samples, we provide free samples. In addition,we also can provide OEM and ODM and others service.
If you want to know more information, please come to consult us, we will share more details with you!It is our pleasure to serve you!
CONTACT US


Foshan Chngoo Co., Ltd.
We are always providing our customers with reliable products and considerate services.
If you would like to keep touch with us directly, please go to contact us