How to choose the right Silicone Sealant
By:Chngoo
Date:2020/03/03
Nowadays, People in the construction and renovation community, both in residential and commercial sectors, know that silicone can be used in many different ways. With their unique properties, silicone-based sealants can be used indoors and outdoors, regardless of the environment.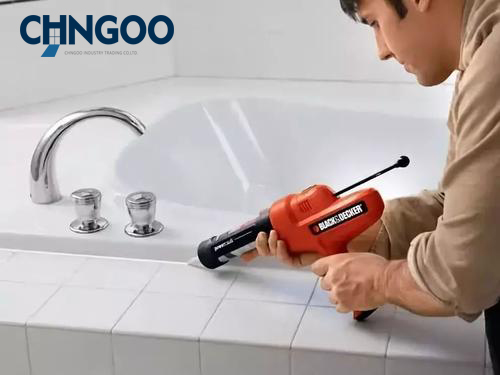 Although glass glue is very inconspicuous, materials commonly used in architectural curtain walls and home improvement, such as bonding cabinet countertops and kitchen wall surfaces, fixed basins and toilets, etc., must be used. Some consumers because they do not understand the properties of glass glue, no matter what material is bonded to use the same glass glue. In fact, different conditions apply to different performance glass glue.
We hope the below suggestions can help you to know how to choose the right silicone sealant.
1. The quality of glass glue can be examined from the aspects of viscosity, tensile force, whether it is mildew-proof, easy to clean, and whether it will change color. From the perspective of color, glass glue has various colors, white, black, color, etc. color.
2. Acetic silicone glass glue: It has a wide bonding range and has excellent adhesion to most building materials such as glass, aluminum, and oil-free wood. However, it cannot be used for bonding ceramics, marble, etc.
3. Neutral silicone glass glue: It can be used for bonding ceramic sanitary ware and marble.
4. There are many types of glass glue on the market, including acetic glass glue, neutral weatherproofing glue, neutral structural glue, silicone stone glue, neutral mold resistant glue, hollow glass glue, aluminum-plastic special glue, and aquarium. Special glue, special glue for big glass, special glue for bathroom mildew proof, acetic structural glue, etc.
Difference Between Acetic Silicone Sealants and Neutral Sealants
Acetic silicone sealants release acetic acid (which smells a little like vinegar) as they cure, this is the most commonly used - it is more rigid and the full cure is quick. On the downside, it generally has poor adhesion and leaves much to be desired in how well it 'sticks' to PVC-U, most other plastics, and glass, aluminium and Polycarbonate.
Neutral (meaning neutral alcoxy) silicone sealants release alcohol as they cure, and has almost no smell, they have better adhesive properties for a greater number of materials including PVC-U, most other plastics, glass, aluminium, lead, stone and masonry and Polycarbonate. On the downside, they can be more expensive and is slower to cure at one to five days depending on thickness, temperature and humidity conditions.
Conclusion
As you can see from the post above knowing the information you want to use silicone sealant for is the best way to figure out which silicone sealant is right for you. For more professional suggestion please do not hesitate to contact our sales. We are looking forward to offer the best service for you.
CHNGOO, Change future, change globe.
CONTACT US


Foshan Chngoo Co., Ltd.
We are always providing our customers with reliable products and considerate services.
If you would like to keep touch with us directly, please go to contact us